I'm house sitting at my friend Alia's for the weekend while she's off to Israel for a wedding. I'm taking care of her cray kitty Pom. Say hi Pom!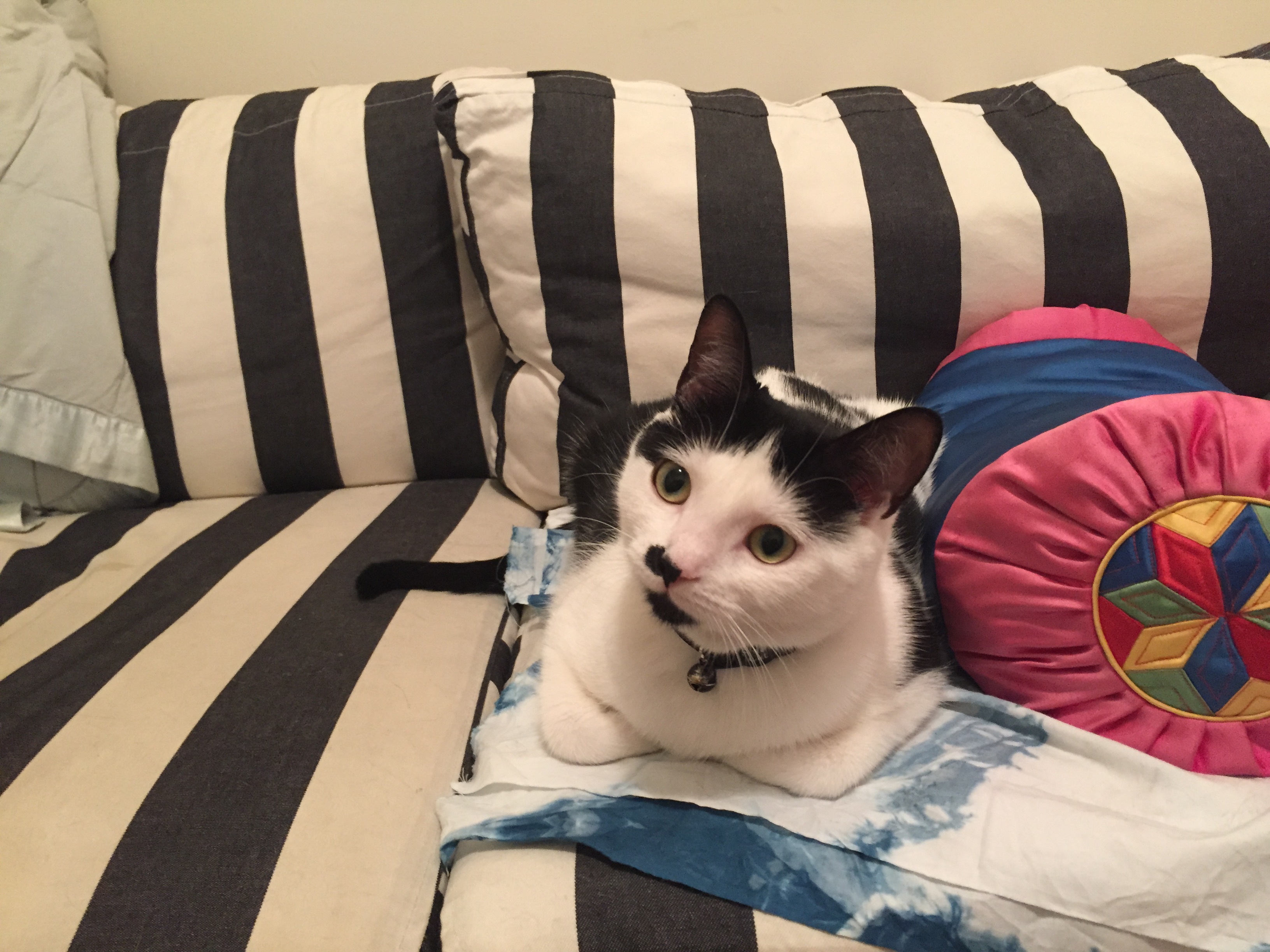 Tonight I am going to an event as part of NY Comic Con called RAVE OF THRONES, or, as so poorly put on the ticketing website: A Night of Ice and Fire, featuring Kristian Nairn and MORE.
Kristian Nairn, the actor who plays Hodor on Game of Thrones, will be DJing a set AND the podcast I listen to, Game of Owns, will be in attendance in some capacity as well. Not sure if they're doing a live episode, if they will be the masters of ceremony or if they're just there to kick it.
Ahem.
I am so excited.
I think, for you to fully understand the thrill of this evening, I need to provide some context.
---
I have been listening to Game of Owns since its inception some three and a half years ago. I was turned onto it after I started listening to Mugglecast, a podcast about--wait for it--Harry Potter; a phenomena I was remarkably late to. I started listening to a Harry Potter podcast more than a year after the last film came out.
On Mugglecast they would advertise another podcast two of the hosts were on about this new fangled TV series Game of Thrones. My roommate Morgan showed me the first episode and that was it. I jumped from a dying fandom to an emerging one.
Morgan and I listened to Game of Owns, often together in the car, until listening to the episodes and discussing them was just as important as watching the actual show. About a year in, I sent an email to GoO telling them how much I loved what they did. One of the hosts responded to me, thanking me for my kind words, and I printed it out and put it on our kitchen corkboard. I now had a fandom within a fandom, each made stronger by the other.
---
Cut to: New York the summer after college. I've been offered a full-time position at my summer internship. Not only that, I might be traveling for my new grown-up job! It just so happens my destination, Las Vegas, is potentially home to one of the hosts of GoO (though I was unsure, going off of only passing references in the podcast.) Perhaps fueled by the adrenaline of my job success, I send this host an email with the subject "uhh I'm not weird I promise", asking if, maybe, he would like to meet up while I'm in Las Vegas, that is, if he does indeed live there?? Miraculously, he responds.
We start talking, first via email, then via text message. Turns out we won't be in Las Vegas at the same time. But even after that's established the conversation keeps going. He texts, "I forget we're not friends." Is my dream of being instant-besties coming true??
After a month or so of correspondence, it culminates in a Skype voice call (no video). It is downhill after that. It falls into an all too familiar pattern: one of a guy losing interest. I send a text and hours go by without a response. Then maybe a day. Then no response at all. I get disheartened. I feel weird about it. He follows me on no social media, we are not Facebook friends. I do not know if he knows what I look like. We are not instant best friends, we aren't even friend friends.
---
In the past year we've exchanged words a handful of times, nothing longer than three texts back and forth, and, I would like to note, not always initiated by me. It was a fun, weird experience. I was content to listen to the podcast simply as a fan once more.
UNTIL TODAY. Tonight I will meet them all!! I have informed him of my coming, deeming that less weird than just showing up. (His response: "Awesome / I'll get to meet ya") I'm hoping the event isn't too large. I'd love to get a picture with Kristian Nairn.
Yes!!!